Free food collection available to those in need, organised by Enfield Council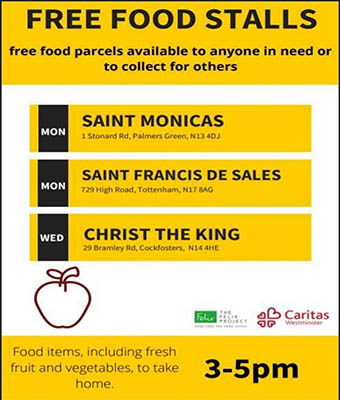 Free food parcels are available to anyone in need and you can also collect for those who are not able to travel.
The parcels can be collected from the food stalls at the locations listed below. The time of the food stalls are from 3-5 pm.

Monday: Saint Monica's Church 1 Stonard Rd, Palmers Green, London N13 4DJ
Monday: Saint Francis De Sales, 729 High Road, Tottenham, N17 8AG

Wednesday: Christ the King, 29 Bramley Rd, Cockfosters, N14 4HE

Food items include: fresh fruits and vegetables.