Confidence for Work Course!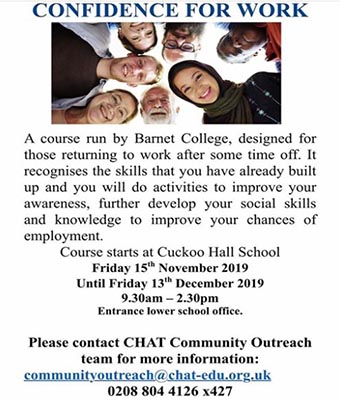 Our Community Outreach team is working hard to provide parents with help if they want to return to work.
In partnership with Barnet College, we are running a free course run designed for those parents wanting to return to work after some time off.
The venue for this course is Cuckoo Hall Academy and is open to parents from all of our schools - Woodpecker Hall, Kingfisher Hall, Enfield Heights, Heron Hall.

It recognises the skills that you have already built up and you will do activities that further develop your social skills and knowledge to improve your chances of employment.
The course runs from Friday 15th November to Friday 13th December. 9.30am-2.30pm
You can still sign up.
Please contact CHAT Community Outreach team for more information:
[email protected]
0208 804 4126 x427