Talking Teens Parent Group!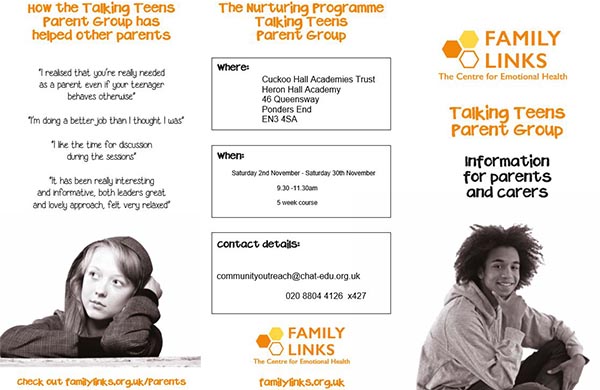 Parents can sign up for the Talking Teens Parent Group.
The group helps deal with those stressful family challenges so you can have a calmer happier family life.
It is a tried and tested programme, it helps us think about what we do, why we do it and how it makes us feel.
The sessions about being a parent of a teenager, understanding and communicating with your teenager and managing conflict.
There are four 2 hour sessions over four weeks.
10-20 parents are invited and there are two family links trained group leaders.
Partners are welcome and it's also fine to come on your own or with another relative or friend.
You'll get the most out of the programme if you come to all four sessions.
It takes place at Cuckoo Hall.
It's from Saturday 2nd November- Saturday 30th November
9.30-11.30am
Contact Details: [email protected] 020 8804 4126 x427