Sign up for the half term CHAT Sports & Arts Camp now!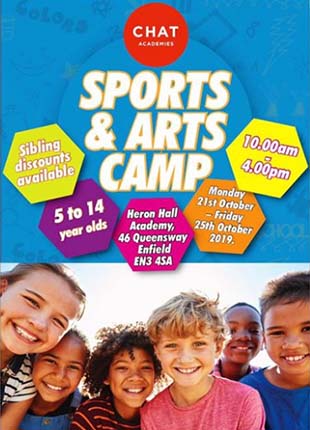 CHAT Academies are running a sports and arts camp over half term for children aged 5 to 14.
The camp offers an attractive,rewarding and fun experience and runs from 10am to 4pm.
It is held at Heron Hall which has some of the best facilities in the borough.
The children will take part in a wide range of activities throughout the week to give the children an opportunity to try new things as well as find out what they enjoy best.
This is great chance to make new friends during the holiday and the camp is open to children of all abilities.
It is £50 for the entire week or £15 per day.
Sibling discounts are available.
Spaces are limited so sign up quickly!
You can sign up through your local CHAT school or email [email protected]