Instrumental and vocal lessons applications now open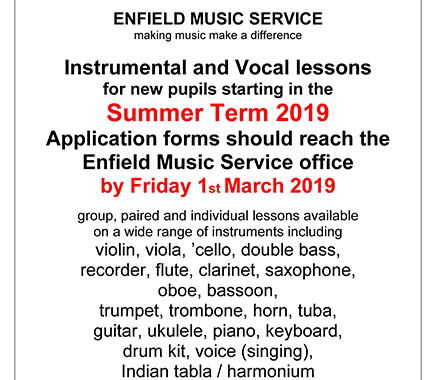 Is your child interested in music?
Enfield Music Service now offer group, paired and individual lessons on a wide range of instruments including violin, viola, 'cello, double bass, recorder, flute, clarinet, saxophone, oboe, bassoon, trumpet, trombone, horn, tuba, guitar, ukulele, piano, keyboard, drum kit, voice (singing), Indian tabla / harmonium.

Applications for instrumental and vocal lessons for new pupils starting Summer Term 2019 are now open.

Application forms can be found at www.enfield.gov.uk (search Enfield Music Service) or from the school office.

Application forms should reach Enfield Music Service office by Friday 1st March 2019.