Smoothie success for year 6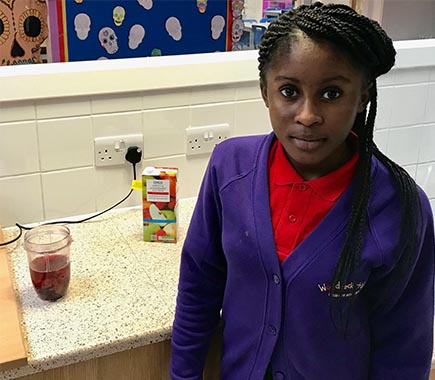 Enterprise Week

This year, the year 6's that weren't on the residential trip got to partake in Enterprise Week. They got the opportunity to be involved in creating their very own flavour smoothie and then selling it.

They started off going through their price list of ingredients which listed the cost per 100g. This meant they had to use their creative side to come up with different flavours. They also had a budget that they had to stick to so they had to think would their smoothie make money?

Each pupil chose two smoothies to test out. One pupil said, the most disgusting flavour was banana and blueberry juice. They tested all flavours and two were chosen to be sold to parents/carers, Magnificent Mango or Righteous Raspberry.
While the testing process was underway they had to research which charity they would like the proceeds to go to. Again, they chose two each and one was then chosen by the class. The charity was People Against Poverty.

So they had their price, product and charity all they needed was their promotion plan. The next step was to create advertisements for the smoothie stall. This used the pupil's creativity and artistic eye to create something that would stand out.

The smoothies were then sold for £1 each with all proceeds going to People Against Poverty.

Smoothie - the movie
She may only be 10 years old but Kimisha is clearly a great communicator.
The year 6 pupil, so impressed our communications team when they met her, that she was asked to take part in the filming of her Righteous Raspberry smoothie for the Trust's YouTube Channel.

Want to know how to make the famous Woodpecker Smoothie? Click here.