Teenage civil rights protest and arrest inspires best Heron Hall school short story.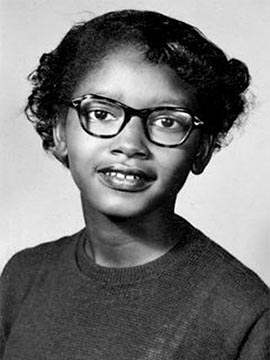 Claudette Colvin, a pioneer of the 1950s civil rights movement, was the inspiration behind the winning entry for the school's 'Black Excellence' short story competition.

Author Aminah, in Year 8, imagined what it was like to be there on the day in March 1955, when Claudette was arrested at the age of 15 in Montgomery, Alabama.
Claudette had refused to give up her seat to a white woman on a crowded, segregated bus.
In 'Shades of Difference', Aminah's character 'Lyra' goes through a mystical door to find herself transported to a bus stop almost 70 years ago.
She gets onto the infamous bus and notices a young girl with a name badge, 'Claudette Colvin'.
Aminah recounts, in vivid language what happened to Claudette on the bus, as well as her arrest by the police.
The whole experience teaches her character Lyra to be optimistic about the future, how bravery and courage can make a difference, as well as making her grateful what she has in her life.
For winning the competition, Aminah receives three books and an opportunity for her work to be published on the school website.
You can read her short story here.

Runners up

The runners up of the competition are year 8 students Abigail, Oliver, & Riona.
They will each receive a £10 Amazon voucher and a book from a range of Black authors.

Our competition

We're delighted to announce that Aminah (8U) is the winner of the Black Excellence competition run by Mdm Dodge, our library assistant and the English department.
Despite the challenges and disruption from the lockdown, Year 7 & 8 students were taught a lesson on creative writing with short stories by their English teachers in December 2020.

They were given a range of past and present influential and innovative Black figures to be inspired by.

Congratulations to Aminah and our runners-up: they have clearly demonstrated our STRIVE values of Support, Tolerance, Resilience, Integrity, Visionary and Excellence.