Help and support for families affected by Covid-19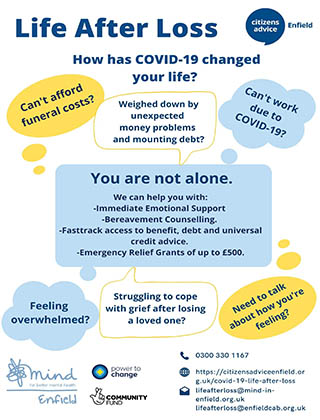 Covid-19 has affected people in a number of different ways and we want to ensure that our families can access as much support as they need during these difficult times.
Citizens Advice Enfield is an organisation that provides free, independent, confidential, and impartial advice to everyone on their rights and responsibilities. It values diversity, promotes equality, and challenges discrimination.
They have partnered with Mind in Enfield to provide a dedicated service for people who have been directly impacted by Covid-19.
Mind in Enfield is a local charity with a mission to promote and improve the psychological and social well-being of local people with mental health problems.
The project titled "Life After Loss" will help people who have been affected by Covid -19 by providing financial and emotional support as well as help them cope with the terrible losses bought about by COVID-19.
The Life After Loss Service includes:
• A dedicated advice caseworker to manage the clients' needs from start to finish.
• It will include fast track advice to access benefits, Universal Credit, and debt advice support.
• Assistance with raising money for funeral costs and other sudden/emergency bills.
• Emergency crisis emotional support counselling.
• Up to 8 free sessions of bereavement counselling.
• A small grant of up to £500 for those families in dire need of financial relief.
For more information please call 0300 330 1167 or email [email protected]