Delicious ice lolly recipe to make with your children!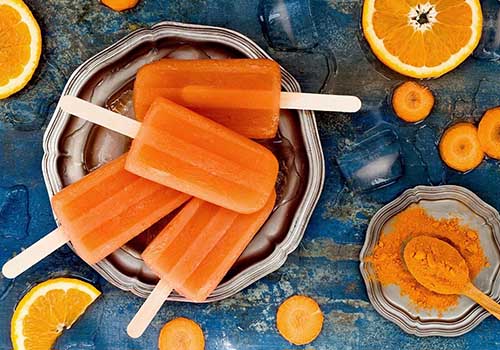 Are you looking for a tasty and refreshing treat for you and your children on a hot summer's day?
Why not try this great idea from the Community Outreach team.

These lollies are easy to make, healthy and much cheaper than buying from the shop. They are also vegan and gluten-free.
Ingredients:
5 large carrots
Orange juice one small glass
1 satsuma peeled and chopped or your favourite fruit.
Water
Method:
Finely grate carrots, place in a clean towel over a bowl and squeeze the juice out (keep the pulp in the fridge or freezer to use in stews or add to other foods).
Add the orange juice to the carrots juice and top up with water to make up to 360ml of liquid, use a measuring jug.
Finally, add the chopped fruit and stir.
Pour into lolly moulds and freeze overnight.
Enjoy!