Year 6 present special art works to the Trust celebrating sustainability and the environment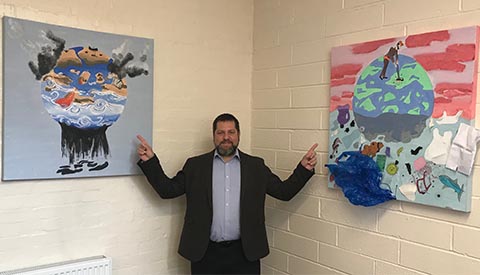 Marino Charalambous, the CEO of CHAT Academies, the Trust which runs local schools including Cuckoo Hall, was delighted to receive two fantastic pieces of art this week from Year 6 pupils at the school.

Year 6 have been actively trying to persuade the Trust to do even more to protect the environment this year.
Throughout the year, the citizen minded youngsters have been making a series of environmentally friendly suggestions to Marino. 
Marino said: "I am very proud of our Year 6. Everyone needs to think about what contribution they could be making towards creating a sustainable future. The art works will be a great way to remind visitors to Harmony House of the importance of the environment. The works are eye-catching and very creative."