Make some delicious shortbread biscuits at home with your children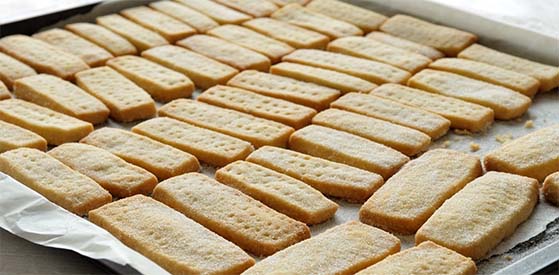 Would you like to make some mouth-watering shortbread biscuits?   

The Community Outreach team have a great recipe that will delight the whole family!
It's simple to make and a nice treat for the children.
You will need to preheat the oven gas mark 5 or 190c
Ingredients
4oz butter you can use dairy-free instead if you like.
2oz sugar
6oz plain flour
Making the biscuits 
Beat the butter and sugar together until creamy, takes a little time, get the children to help.
Stir in the flour, then with your hand gently squeeze the mixture together to form a soft dough.
Gently roll out the dough on a floured work surface.
Roll out to ¼ thick and cut into any shapes with cutters of children's choice or using a knife into finger slices. Poke some dots on the top using a fork.
Place on a baking tray.
You can sprinkle each biscuit with a little sugar before placing in the oven.
And that's it! The biscuits go perfect with a nice tea or coffee.